Performance September 2022
Sunday 25th September, 4pm. (doors open 3.30pm) Free. Where are the acrobats? or 'Marriage' not according to Gogol.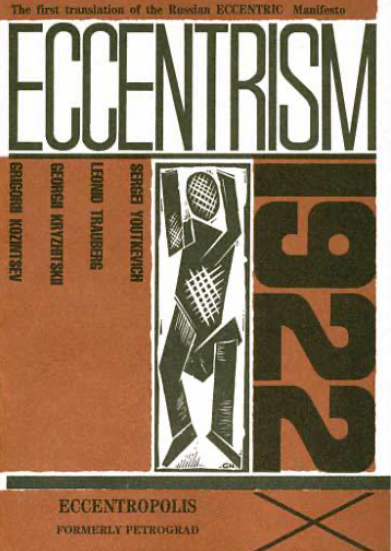 The New Factory of the Eccentric Actor celebrates the centenary of FEKS, the Soviet avant-garde Factory of the Eccentric Actor. https://eccentricactor.org/ https://en.wikipedia.org/wiki/Eccentrism
Memories of 2019
A musical event.
Friday 29 November
Dorten Yonder playing songs by Maggie Eiseman-Renyard, traditional songs & dance tunes.
Also original songs from Alan Franks and Charlotte Moore.
A Torriano benefit
Sat 14 Dec 7.30 for 8pm
The New Factory of the Eccentric Actor present Blue Blouse. A performance inspired by 1920s Soviet agitprop. With seasonal jollity and refreshments. Collection: lots of money in the hat please!
Dorten

Yonder
28 June
A musical event from Dorten Yonder.  We'll be playing our usual mix of songs by Maggie Eiseman-Renyard, traditional songs and dance tunes.  We're also delighted to have two excellent support acts:  Chris Tymkow,
well known to Unity attenders, and the Clean Cut Kids (Richard Cryan doing double duty, and Keith Taylor) – superb Bob Dylan interpreters.
We'll open the doors at 7:30 for an 8:00 start; entrance is £6.00 on the door – bring your own refreshments.
Anti-Austerity Cabaret.
Fun,frolics,festivities,festoons of femininity and frantic frenzies 
Saturday 29 June 7.30pm
Music from radical singer/songwriter Lizzie Shirley lizzieshirleysinging.com, and socialist folk singer Amanda McLean, comedian and singer Izabella Finch, and poet/performer Janet Harper. Plus maybe more.. ."
£5/4 entry.
Prize for the best lemon drizzle cake.
Scotsman …'sings as sweetly as anyone in Edinburgh' 
Time Out …'equally talented in both arts…a rare and ringing voice'.
5 Stars …'a blithe acoustic stance…utterly lovely'
South London Press : …'highly recommended' …'a born performer'.
Rojava Solidarity
Saturday 6 July, 6pm
An evening of celebration. Poetry, music, films, talks
Rehearsed reading of stage play
THE RETURN OF GEORGE MEADOWS
By Peter Phillips
Friday 5th & Saturday 6th April 2019
Why did poet George Meadows fake his death?
During interviews journalist Belinda Carter uncovers important events in George's life. Humour and sadness are intertwined as scene by scene the real reasons behind George's fake death are revealed.
Real life Torriano Poets and two actors from Hampstead Players take part
Doors open: 7:00pm for 7:30pm
Tickets: By registering with Eventbrite
Entrance: Payment £7 but only with prior registration.
Please do not risk coming without registering.
No entrance after the play starts.
If you can't attend after booking,
please advise us via Eventbrite, so your seats can be reallocated.
International Women's Day Celebration
With The New Factory of the Eccentric Actor
10th March, 3pm
Tea, cake and an afternoon of performance. Free
The Women's Vote Centenary
POSTERS, TEA, THEATRE AND TALK
4 plays & readings on the suffrage struggle
Sat 16 February 2019 noon – 6pm
The New Factory of the Eccentric Actor and
Sunrise Theatre group will be performing plays written over a century ago: "How Women Won the Vote" by Cicely Hamilton and Christopher St John, "A Chat with Mrs Chicky" by Evelyn Glover, "The Maid and the Magistrate" by Graham Moffet and "The Apple" by Inez Bensusan on 16 February.
Drop in at any time during the afternoon or come for the whole day. There will be tea, cake & discussion on
present struggles for political voice
5 May 2018 8pm. New Factory of the Eccentric Actor commemorates
Karl Marx's 200th birthday

.
Free
6 May 3pm. Pocket Epics present Shakespeare's
Puppet King Richard II. 

Unity Folk Night
8pm last Monday of each month the Unity Folk Club meets at Torriano Meeting House. Songs, ballads, poems and music. All welcome. £4.